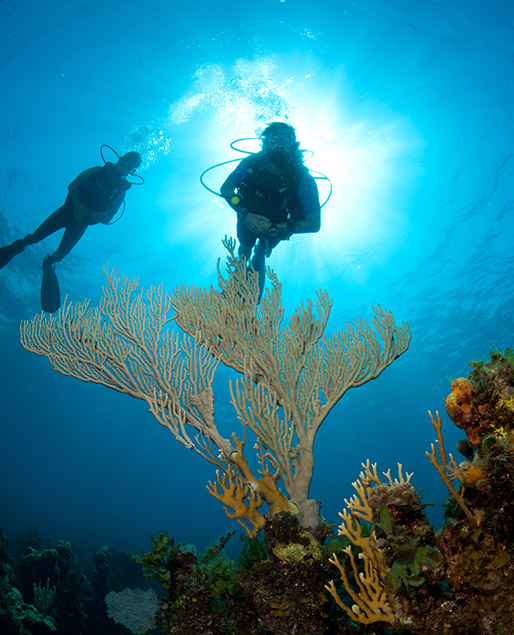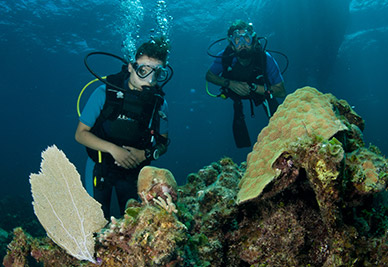 Scuba Diving on Andros Island
Do you enjoy exploring the depths of the ocean and discovering hidden gems? Look no further than Andros Island, one of the most beautiful and unspoiled islands in the Bahamas. With over 175 miles of pristine coral reefs, underwater caves, and abundant marine life, Andros Island is a paradise for scuba divers of all skill levels.
Extreme Caution and Bravado!
Whether you're a beginner who wants to try snorkeling for the first time or an experienced diver seeking a new thrill, our certified instructors and dive masters are ready to show you around an exciting underwater world. Small Hope's Dive Center has been introducing guests to the Andros Barrier Reef since 1960.
With more than 60 nearby dive sites, guests can experience everything from stunning wall dives at the edge of the continental shelf to a dazzling variety of coral formations along the 124-mile Andros Barrier Reef, the third-largest barrier reef in the world.
Diving
Discover Scuba for Free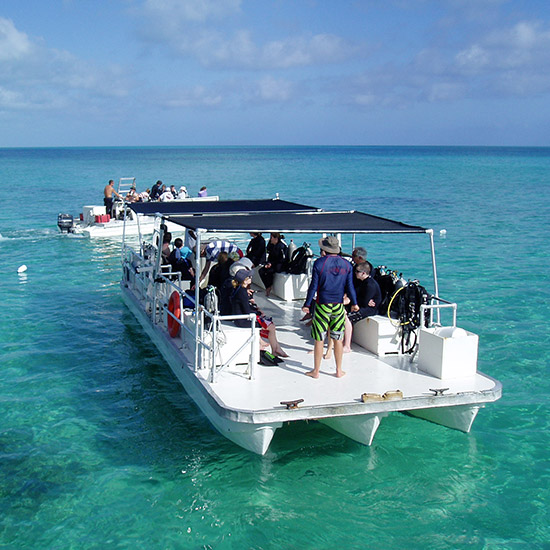 This free resort course (exclusive to guests of Small Hope Bay Lodge) is designed for beginners who want to try scuba diving for the first time. Our experienced instructors will teach you to dive right off our dock, in water you can stand up in. Children under 10 can try SASY or Bubblemaker, a gentle introduction to surface and underwater swimming with an air supply.
A Variety of Dives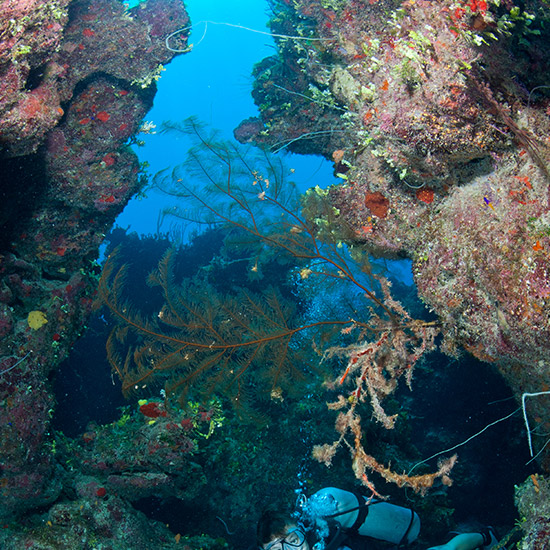 With dozens of dive sites within a 15-minute boat ride from our dock, it's rare to dive the same site more than once during your stay. Our weekly scuba diving schedule includes colorful coral gardens, wrecks, reefs, walls, caverns, and open ocean blue holes, as well as a shark observation dive.
Get PADI Certified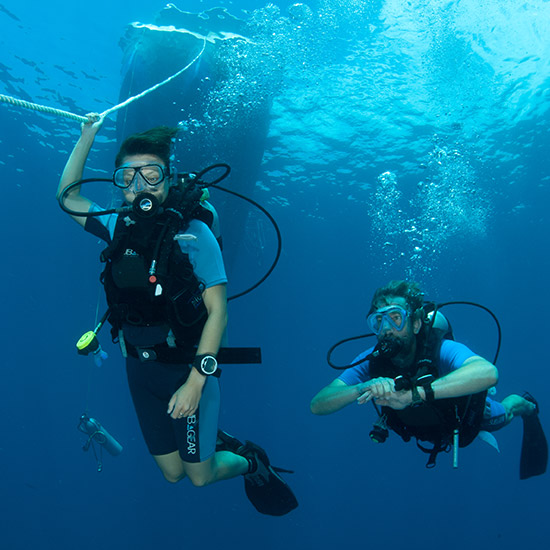 Our Dive Center offers PADI certification courses, including Open Water Diver, Adventure Diver, and Advanced Open Water Diver. Specialty classes include certifications for Enriched Air Diver, Underwater Naturalist, Night Diver, Wreck Diver, and more. We happily accept referrals from diver certification agencies too.
Know Before You Go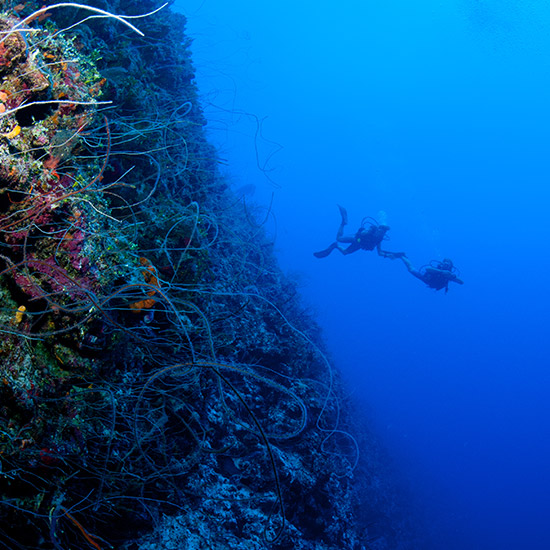 Remember to bring along a valid C-card if you plan on scuba diving while you're here. We may also ask you to demonstrate your mask and regulator clearing skills, allowing you to get comfortable and adjust your buoyancy in the water.
Scuba Diving Rate Card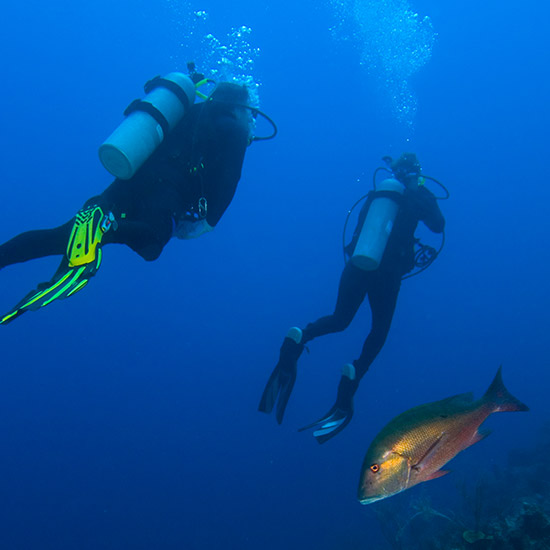 One Tank Scuba Dive: $125
Two Tank Scuba Dive: $150
Night/Shark Dive: $100 (Minimum of 6 divers)
Boat Snorkel: $50 per person
Specialty Dives: contact us
Nitrox Fills: $15 per tank
Mask, Fins & Snorkel: $12 (for your whole stay)
BCD, Regulator & Wetsuit: $35 per day
*Fees do not include equipment rentals. Please contact us for a full list of equipment availability and rental fees.
Popular Scuba Courses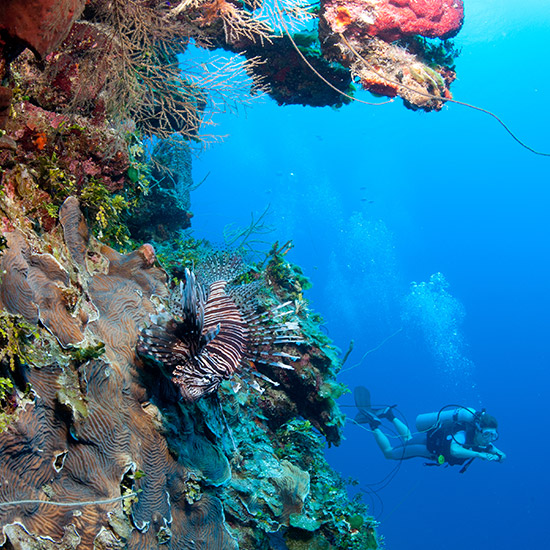 PADI Open Water Scuba Diver: $300
Open Water Referral: $150
PADI Advanced Diver: $200
Other Certifications: contact us
*Save 10% off your course fee with our PADI e-learning discount!
**Prices do not include equipment rental or required dives
***You do not need to prebook dives but please inquire for specialty dive eligibility.
****The Bahamas has a 10% VAT on all goods and services. It is not included in these rates and will be reflected on your bill at check out.
Diving Highlights
Experienced instructors and dive masters
Instruction for all levels of divers and snorkelers
Relaxed schedule and concierge dive service
Free "Discover Scuba" diving class for beginners
Dive Sites
Shallow Dive and Snorkel Sites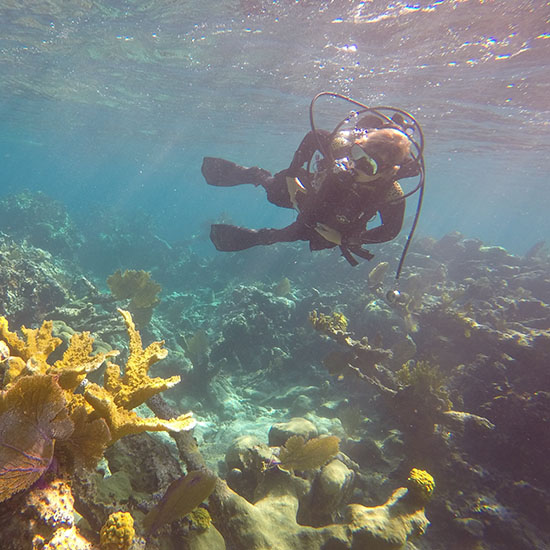 Red Shoal
Large schools of French and blue-striped grunts embellish the rich Elkhorn coral formations. Barracuda's can be found here, plus peacock flounders and stingrays can be found on the sandy bottom that channel through the coral formations.
Love Hill
Branching from the main strip of reef, the coral formations create sand channels that provide a maze-like environment, perfect for those who like to meander around a rich and colorful reef at a very shallow depth.
Central Park
The site got its name because of a comment made by some guests from New York City. When they surfaced after the dive, they said the site had so many fish; it reminded them of a long weekend at Central Park.
Medium Dive Sites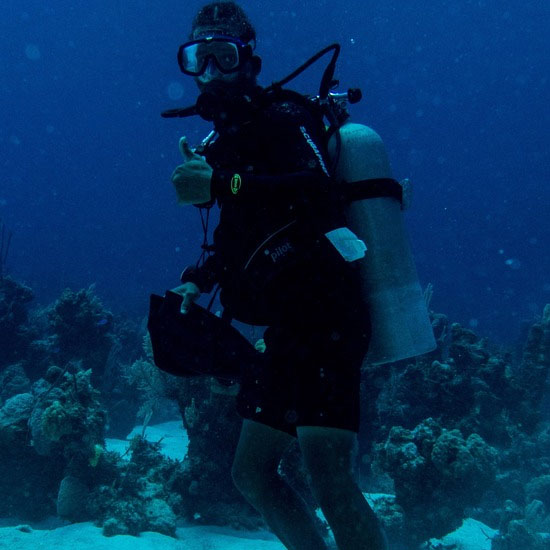 Three Sisters
This is a lovely false wall site, just east of Jeff's Ladder. The top edge of the wall is a transition from Jeff's Ladder where the sandy bottom leads to a plateau scattered with individual coral heads.
Sea Turtle Ridge
While the name suggests sea turtles, we cannot guarantee their presence, but the numerous sponges that dot the slope show evidence of turtle predation.
Queen Angel Ridge
Queen Angel Ridge (QAR) is made up of a thick coral ridge right on the edge of the wall. This site has particularly nice soft corals that gently wave in the warm clear waters.
Black Forest
The hard coral formations looming from the sandy bottom of this site create a landscape that resembles a forest. Divers can swim to the base of the corals and meander through the sandy channels.
Walls, Mini-Walls, Multi-Level Walls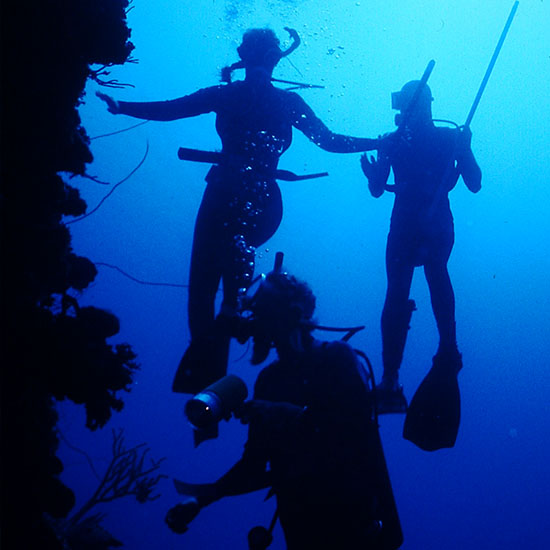 Over the Wall
This is a Small Hope Bay Lodge signature dive, with something to see at every level. Plummeting down to an ice age shore line at a depth of 185 feet, or you prefer to make your way along the coral grottos along the top of the wall filled with marine life of every description, this site has plenty to offer.
The Coliseum
A fabulous false wall, the Coliseum is just east of The Barge, one of our wreck dives. Typically, we anchor at the Barge and swim out to the Coliseum. A gradually sloping false wall leads to a plateau that plunges down into the Tongue of the Ocean.
Giant Staircase
Experience multi-level wall flying, as we follow ancient streambeds where water falls once cascaded into the sea, and then cruise back up, soaking in the dense proliferation of sponges, invertebrates and tropical fish.
Turnbull's Gut
Right on the edge of the Tongue of the Ocean, there is a large fissure in the coral buttress running along the edge of the wall. This feature provides an excellent swim-through, which you can enter on the top of the wall and swim surrounded on all sides by coral. When you exit at 120 feet, you'll see nothing below you but thousands of feet of water.
Whip Wire Wall
This beautiful multi-level dive is located on a nearly vertical wall covered in whip and wire corals. Only seen at deeper depths, these unique corals coil out away from the wall into the blue in a riot of pastel colors.
Caverns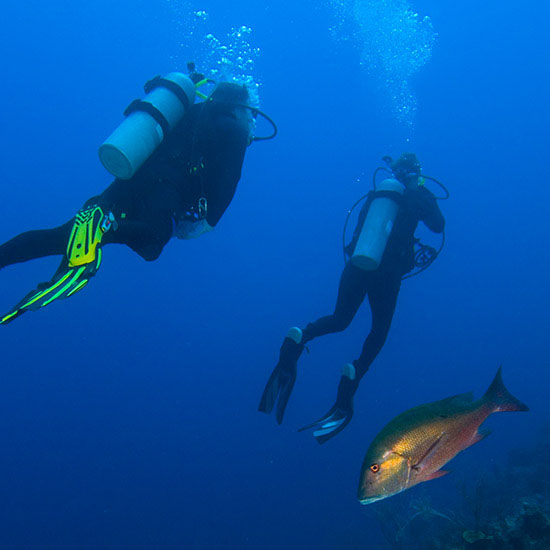 Dianna's Dungeons
Spectacular swim-through coral passageways are a main feature at Dianna's Dungeons. These wide and well-lit formations are easily observed as you wind your way in and out of the false wall. This site is home to a variety of soft corals that wave elegantly on the top, as well as amazing red encrusting algae found on the inside of all of the swim- through.
Alec's Caverns
On this dive, you'll see rare cryptic sponges, schools of sleeping Glassy Sweepers, along with a proliferation of Squirrel Fish, and the occasional sleeping Nurse Shark. The inside of the caverns is out of this world, as light trickles down through natural windows filling the tunnels with a magical glow.
Cara's Caverns
This lovely site has a honeycomb of numerous caverns clustered along a false wall, with two plateaus stepping down like terraces. There are many winding passages and tunnels to swim through and explore. Look for Glassy Sweepers in the tunnels and caverns.
Coral Caverns
This wonderful site is made up of spur and groove coral formations that are so ancient they have grown together, creating swim-throughs and numerous small caverns. Life is teeming here, as the spaces in the caverns provide shelter to thousands of tropical reef fishes, as well as ample hunting ground for predators like barracuda and nurse sharks.
Shark Observation Experience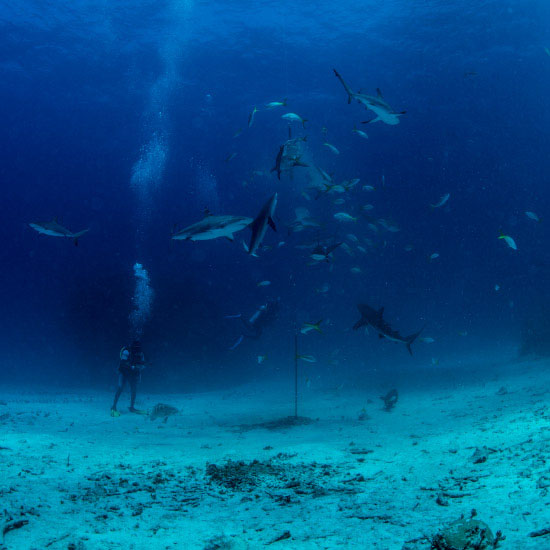 SHARK FEEDING
Our shark encounters provide a small amount of supplemental food to the sharks on an irregular basis so that they are not dependent on us for food. As our boat approaches the site, Caribbean reef sharks begin to gather around. We then lower a chum ball composed of frozen fish parts 30 feet below the surface.
DIVERS PROTOCOL
Divers kneel off to the side on the sandy bottom at a depth of 50 feet. Other than providing them with a free meal, we do not interact with the sharks in any other way. After the sharks swim away, divers have an opportunity to look through the sand for fallen shark teeth.
WHAT SHARKS WILL WE SEE?
Although the Shark Observation Experience primarily attracts Caribbean reef sharks, divers may also encounter nurse sharks, blacktip reef sharks, lemon sharks, silky sharks, and the occasional hammerhead. Shark feedings also attract a number of scavengers like barracuda, grouper, and snapper, who come to eat the leftovers.
*There is an extra fee for the Shark Observation Experience and a minimum number of divers is required.
The Blue Hole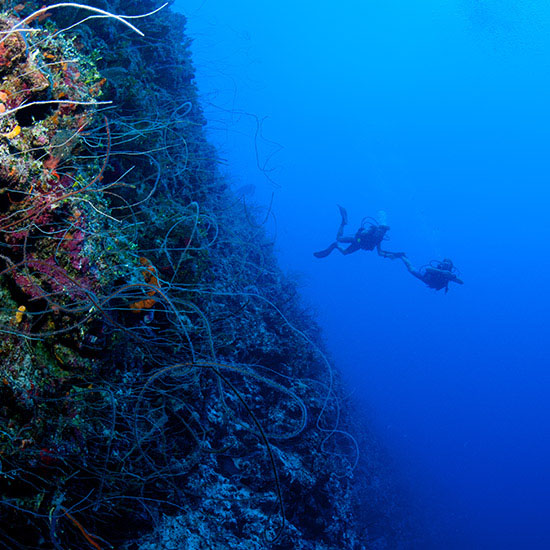 As you are guided along the rim of the blue hole you will first descend down an ancient waterfall chute and then begin to make your way along the rim of the of the blue hole you will pass under an enormous swim through call the "sky light" room where giant boulders have wedged themselves between the rim of the blue hole, be sure to look up and appreciate the geological forces that have created this natural treasure.
Wrecks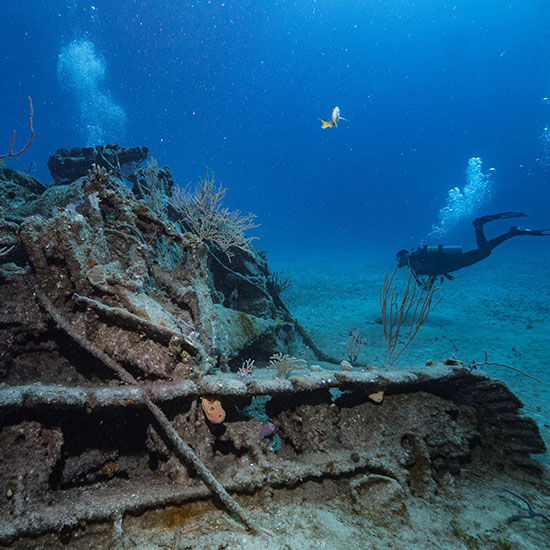 The Marion
Once an AUTEC. crane barge, the Marion now serves as an excellent dive site It's located on a large sandy area dotted with coral heads. Sea life is plentiful here, from the southern stingray that glides over the sandy bottom, to the spiny lobster and the green moray eel that hide among the wreck's crevices, to the curious silky shark that seems to disappear no sooner than it appeared.
Dive Site Highlights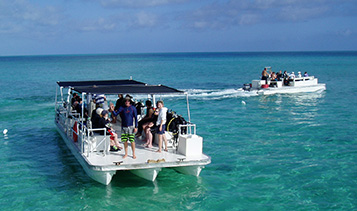 We set sail every morning at 9am and return around lunch time. Around 2pm the dive boat goes out again and returns to the resort around 4pm. Weather permitting.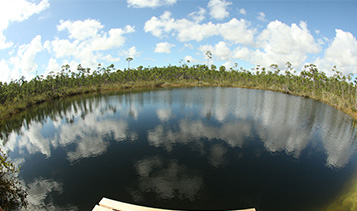 We do not schedule dives in advance. This is due to the uncertain nature of the weather in Andros, Bahamas. Dives are scheduled the night before with the Small Hope Bay Lodge dive team.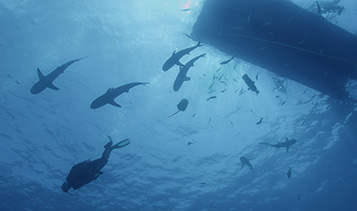 At Small Hope Bay Lodge, we're thrilled to be able to offer sport divers such a diverse range of dives – over 60 different Bahamas dive sites, all within a short boat ride.
Snorkel
Daily Snorkel Trips to the Reef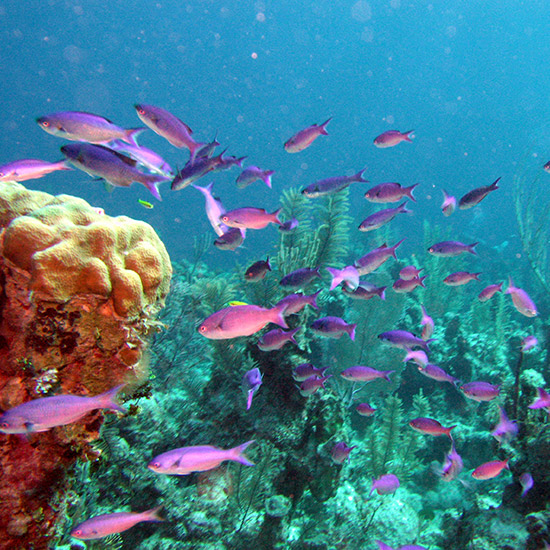 In addition to daily excursions, snorkelers are welcome to come along to some of the shallow dive sites, including the Shark Observation Experience, where they can snorkel safely while watching local reef sharks gather to feed about 30 feet below.
Snorkeling From Shore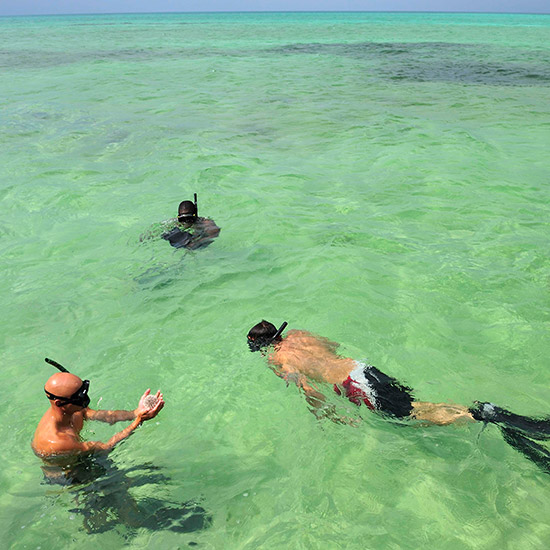 Whether you're a beginner or an experienced snorkeler, there are plenty of great sites right offshore at Small Hope Bay. We'll give you a map of our favorite places to snorkel as well as a list of the marine life you can expect to see.
Learn to Snorkel for Free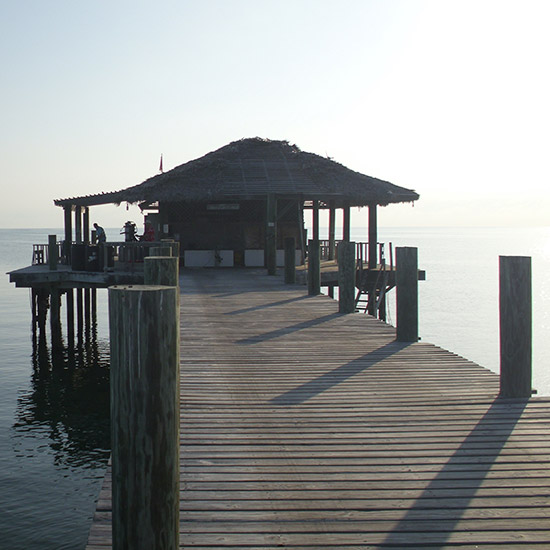 Never snorkeled before? Let us show you how, for free! We love snorkeling and we can teach you at our dive center. There's a variety of marine life around the dock, on the patch reefs off the beach, and in the nearby creeks through the mangroves.
Snorkeling Highlights
Daily trips to Andros Barrier Reef
Snorkel gear available for rental
Learn to snorkel for free off-shore
Water temperatures between 74° – 85° F
Nighttime snorkeling around our dock
Marine life reference library in the lodge
Groups
Group Dives
Groups get a discount off your dive with us depending on how many parties are in the group. Each dive will be pre-planned the night before and will have your dive customized to fit each request as long as the weather permits. Call our office to customize anything you may need for your group dive.
Private Dives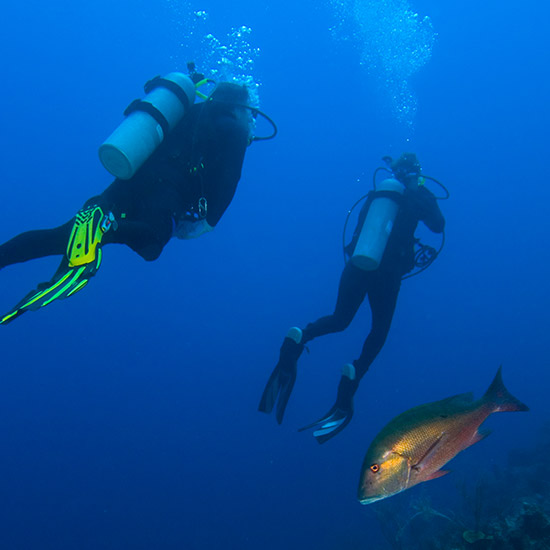 With dozens of dive sites within a 15-minute boat ride from our dock, it's rare to dive the same site more than once during your stay. Our weekly scuba diving schedule includes colorful coral gardens, wrecks, reefs, walls, caverns, and open ocean blue holes, as well as a shark observation dive.
Group Highlights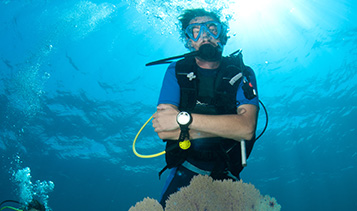 Our experienced dive team guides all levels through Andros island's deep blues with a focus on quality experiences and scenic enjoyment while handling the rest.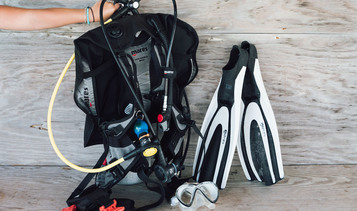 Just bring yourself and a swimsuit to our dive center, as we provide rental gear including regulators, BCDs, snorkel gear, dive computers, dive lights, and optional wetsuits for warm waters, with the added convenience of keeping the same gear for the duration of your stay.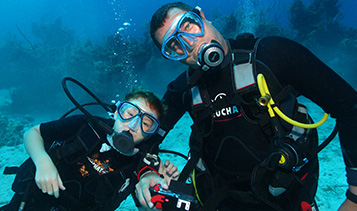 Small Hope is a family-oriented resort and a natural playground for kids to enjoy activities on Andros island like making sandcastles, snorkeling, biking, batik making, swimming in blue holes, with day and evening babysitting services available.
Divers FAQ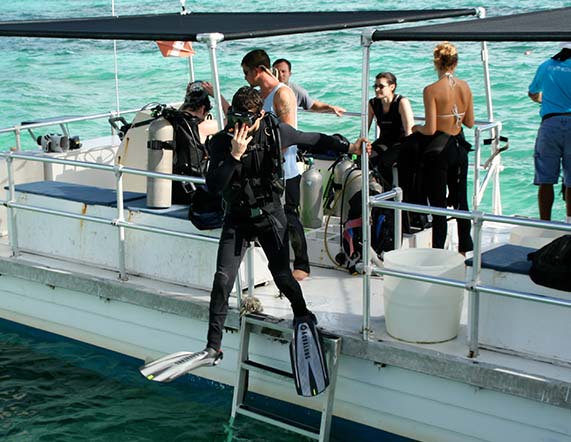 General Dive Questions
Scuba diving gear is not provided but can be rented separately.
We offer convenient storage for all your equipment at our dock, with designated cubbies available for each room to securely hold your gear.
Scuba diving can be arranged as part of our comprehensive diving packages, or guests can opt for standalone scuba diving sessions. We also have a variety of activities tailored for non-divers, ensuring there are always engaging options available for everyone.
Experience our complimentary "Discover Scuba Diving" course which is free for guests of Small Hope Bay Lodge, followed by an opportunity for a shallow dive.