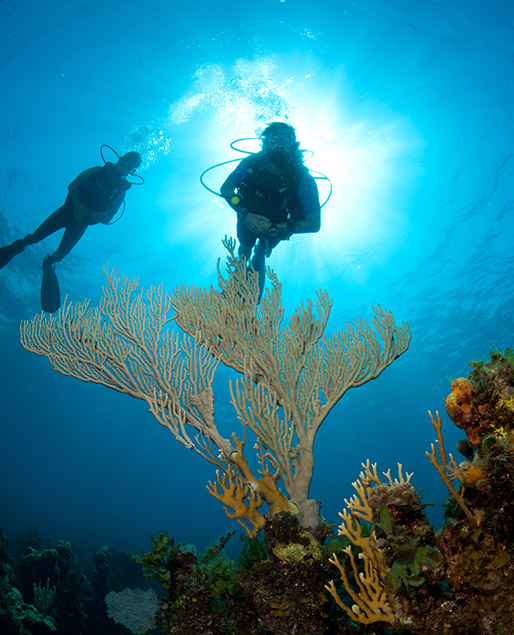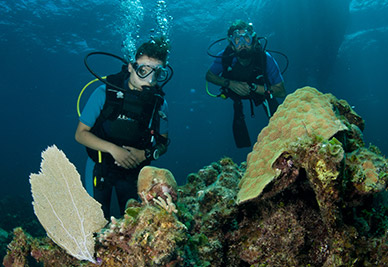 Scuba Diving on Andros Island
Whether you're a beginner who wants to try snorkeling for the first time or an experienced diver seeking a new thrill, our certified instructors and divemasters are ready to show you around an exciting underwater world. Small Hope's Dive Center has been introducing guests to the Andros Barrier Reef since 1960.
With more than 60 nearby dive sites, including shipwrecks, shallow reefs, and breathtaking blue holes, guests can experience everything from stunning wall dives at the edge of the continental shelf to a dazzling variety of coral formations along the 124-mile Andros Barrier Reef, the third-largest barrier reef in the world.
Diving
Discover Scuba for Free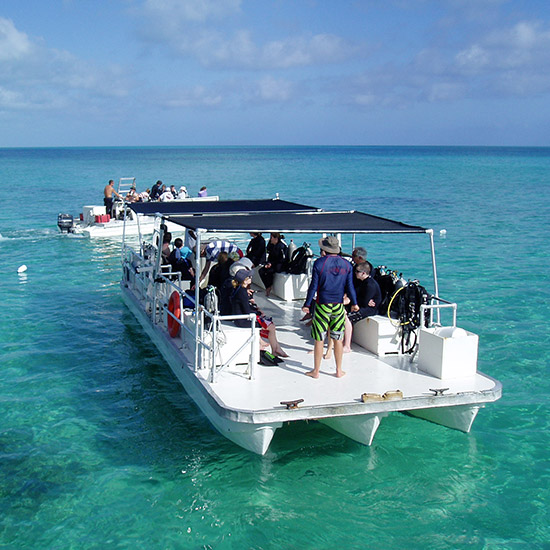 This free resort course (exclusive to guests of Small Hope Bay Lodge) is designed for beginners who want to try scuba diving for the first time. Our experienced instructors will teach you to dive right off our dock, in water you can stand up in. Children under 10 can try SASY or Bubblemaker, a gentle introduction to surface and underwater swimming with an air supply.
A Variety of Dives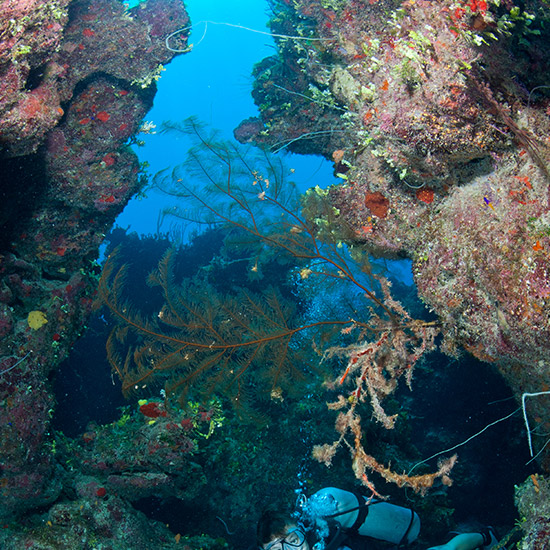 With dozens of dive sites within a 15-minute boat ride from our dock, it's rare to dive the same site more than once during your stay. Our weekly scuba diving schedule includes colorful coral gardens, wrecks, reefs, walls, caverns, and open ocean blue holes, as well as a shark observation dive.
Get PADI Certified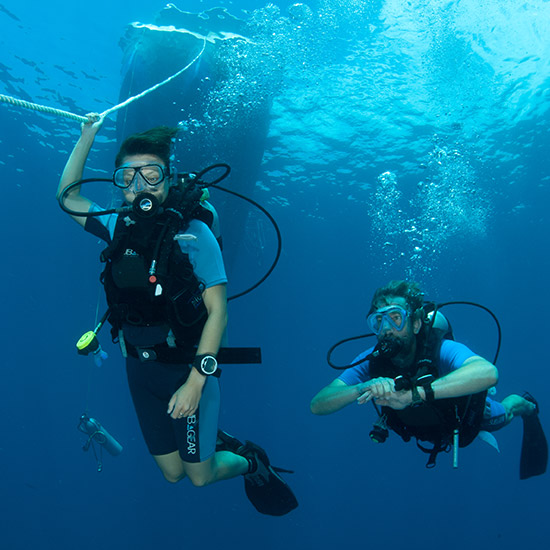 Our Dive Center offers PADI certification courses, including Open Water Diver, Adventure Diver, and Advanced Open Water Diver. Specialty classes include certifications for Enriched Air Diver, Underwater Naturalist, Night Diver, Wreck Diver, and more. We happily accept referrals from diver certification agencies too.
Know Before You Go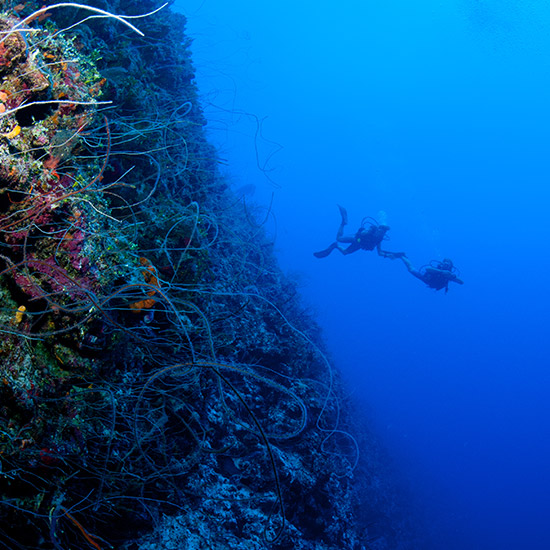 Remember to bring along a valid C-card if you plan on scuba diving while you're here. We may also ask you to demonstrate your mask and regulator clearing skills, allowing you to get comfortable and adjust your buoyancy in the water.
Scuba Diving Rate Card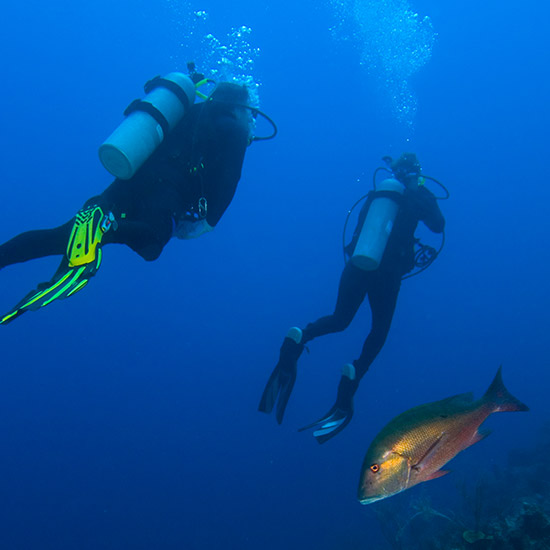 One Tank Scuba Dive: $100
Two Tank Scuba Dive: $122
Night/Shark Dive: $100 (Minimum of 6 divers)
Boat Snorkel: $40 per person
Specialty Dives: contact us
Nitrox Fills: $15 per tank
Mask, Fins & Snorkel: $12 (for your whole stay)
BCD, Regulator & Wetsuit: $35 per day
*Fees do not include equipment rentals. Please contact us for a full list of equipment availability and rental fees.
Popular Scuba Courses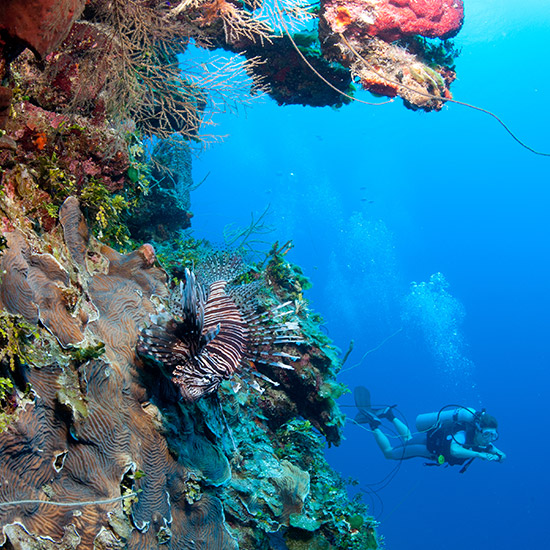 PADI Open Water Scuba Diver: $300
Open Water Referral: $150
PADI Advanced Diver: $200
Other Certifications: contact us
*Save 10% off your course fee with our PADI e-learning discount!
**Prices do not include equipment rental or required dives
***You do not need to prebook dives but please inquire for specialty dive eligibility.
****The Bahamas has a 10% VAT on all goods and services. It is not included in these rates and will be reflected on your bill at check out.
Diving Highlights
Experienced instructors and divemasters
Instruction for all levels of divers and snorkelers
Relaxed schedule and concierge dive service
Free "Discover Scuba" diving class for beginners
Snorkel
Daily Snorkel Trips to the Reef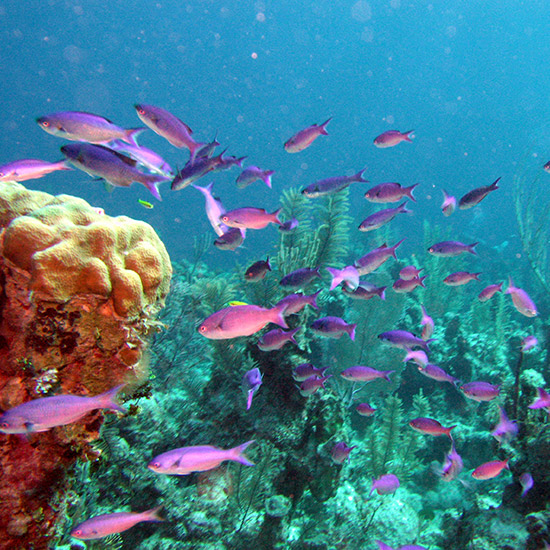 In addition to daily excursions, snorkelers are welcome to come along to some of the shallow dive sites, including the Shark Observation Experience, where they can snorkel safely while watching local reef sharks gather to feed about 30 feet below.
Snorkeling From Shore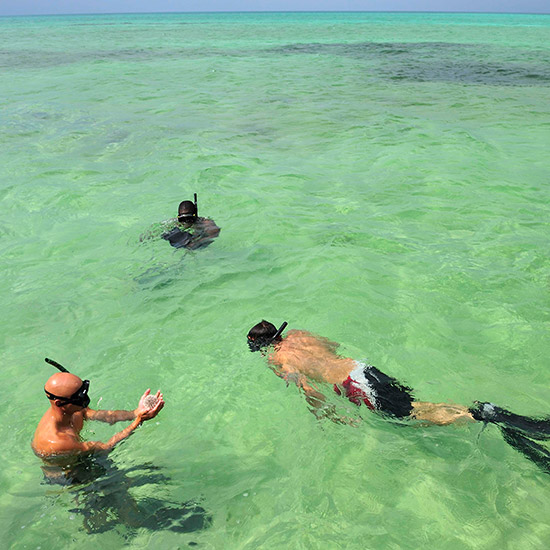 Whether you're a beginner or an experienced snorkeler, there are plenty of great sites right offshore at Small Hope Bay. We'll give you a map of our favorite places to snorkel as well as a list of the marine life you can expect to see.
Learn to Snorkel for Free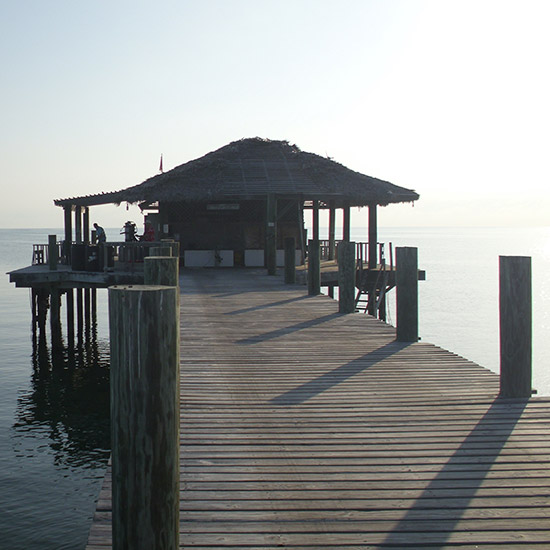 Never snorkeled before? Let us show you how, for free! We love snorkeling and we can teach you at our dive center. There's a variety of marine life around the dock, on the patch reefs off the beach, and in the nearby creeks through the mangroves.
Snorkeling Highlights
Daily trips to Andros Barrier Reef
Snorkel gear available for rental
Learn to snorkel for free off-shore
Water temperatures between 74° – 85° F
Nighttime snorkeling around our dock
Marine life reference library in the lodge
Shark
Shark Feeding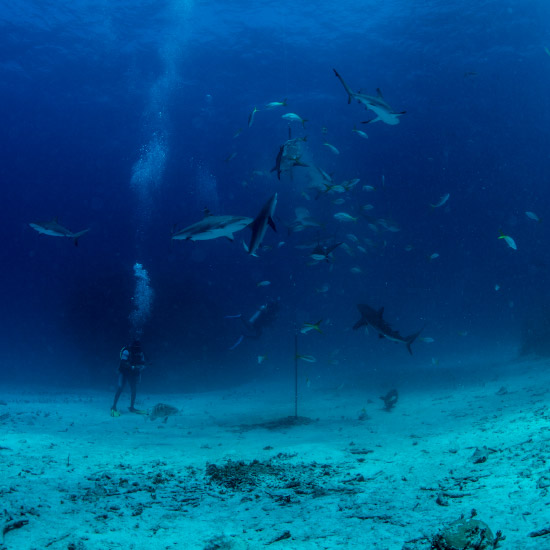 Our shark encounters provide a small amount of supplemental food to the sharks on an irregular basis so that they are not dependent on us for food. As our boat approaches the site, Caribbean reef sharks begin to gather around. We then lower a chum ball composed of frozen fish parts 30 feet below the surface.
Divers Protocol
Divers kneel off to the side on the sandy bottom at a depth of 50 feet. Other than providing them with a free meal, we do not interact with the sharks in any other way. After the sharks swim away, divers have an opportunity to look through the sand for fallen shark teeth.
What Sharks Will We See?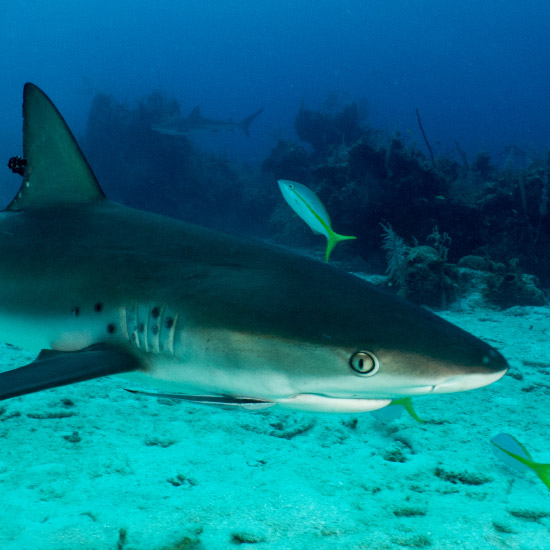 Although the Shark Observation Experience primarily attracts Caribbean reef sharks, divers may also encounter nurse sharks, blacktip reef sharks, lemon sharks, silky sharks, and the occasional hammerhead. Shark feedings also attract a number of scavengers like barracuda, grouper, and snapper, who come to eat the leftovers.
*There is an extra fee for the Shark Observation Experience and a minimum number of divers is required.
Shark Facts
Sharks first appeared in the ocean 455 million years ago
There are an estimated 440 living species of sharks today
Sharks have a cartilage skeleton instead of bone
Some sharks give birth to live young, others lay eggs
Sharks can have over 50,000 teeth in their lifetime
Sharks can sense electromagnetic fields and temperature changes