The Small Hope Bay Lodge Guide to Scuba Diving in The Bahamas
With consistently warm temperatures, crystal-clear waters, world-renowned site diversity, and easy access from the United States, The Bahamas ranks among the planet's premier dive spots. And Andros Island serves as the hub of that natural beauty.
At 2,300 square miles, the island is the largest in The Bahamas — and with about 8,000 inhabitants, it's also the country's least-densely populated. Furthermore, most of Andros' landmass and ocean area is protected by national park designations, making it a prime choice for seasoned divers and first-timers alike.
If you're interested in experiencing this one-of-a-kind destination, you've come to the right place. Located on North Andros' eastern shore, Small Hope Bay Lodge combines the comforts of an all-inclusive resort with the knowledge of a local dive shop; this guide details what you can expect.
---
What does a typical dive day look like at Small Hope Bay Lodge?
Unlike other Andros resorts, Small Hope Bay Lodge offers all-inclusive packages tailored to both divers and beachgoers. Meals, amenities, adventures, and more are all covered by a daily rate, letting visitors focus exclusively on vacationing — not budgeting.
The night before each outing, guests meet with their divemaster at cocktail hour, and together, they construct a plan over conch fritters. Drawing on over 60 years of experience, the divemaster incorporates the group's requests into a custom itinerary that meets everybody's expectations. Planning doesn't stop at the next day's events, though: Our team speaks with each individual to uncover ways that they can get more out of their stay.
With their schedules set, guests turn in for a restful night. Here, dive days begin well after dawn. While divers enjoy a relaxed breakfast, our team members ready their gear and load it aboard the boat for a 9:30 a.m. departure. Barring select exceptions, all of our sites are, at most, a 20-minute ride away.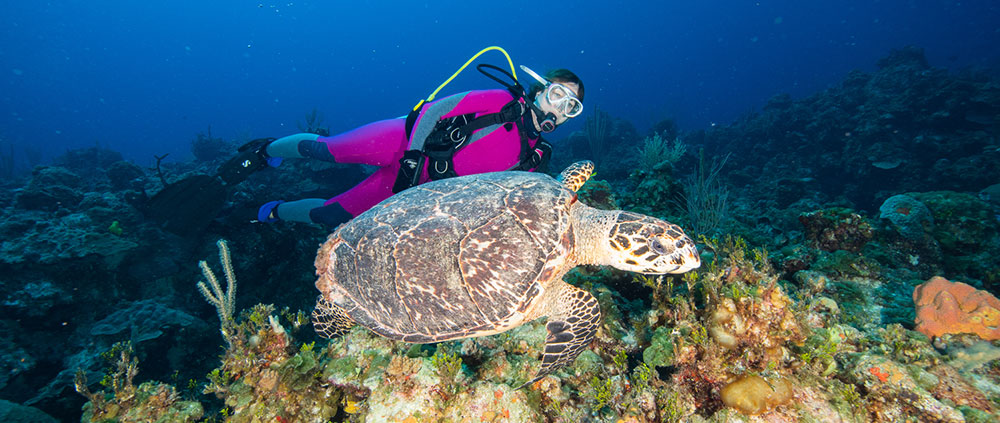 After a two-tank, snorkel-friendly trip, we return to Andros for lunch and to prepare for the afternoon's excursion. Departure for a one-tank, medium-depth dive is slated for 2:00 p.m. However, itineraries are flexible: If necessary, divemasters can work with their groups to schedule dives at times convenient for all.
Need to change plans? Just tell us. Whether you want to book a dive or cancel one, Small Hope Bay Lodge promises personal attention to each and every guest.
---
What kind of dives can I expect?
Thanks to its proximity to two major geological features, Andros boasts an array of dive sites — 120 in all — not found anywhere else in the Caribbean.
At 140 miles long, the Andros Barrier Reef is the third-largest of its kind in the world. It brushes up against the Tongue Of The Ocean: a U-shaped trench that plunges 6,000 feet into the Atlantic, separating the island from neighboring New Providence. Together, they make for an abundance of shallow and wall dives.
The former take visitors to flat, sandy plateaus filled with coral heads and vibrant marine life; the latter begin on the reef and add a steep dropoff into open water. Small Hope Bay Lodge's 20 wall dives are known for their swim-throughs — short tunnels that run through corals and stone.
Various wrecks are scattered across Andros, too, including a Cessna 172 Skyhawk; a U.S. Navy construction barge; and a World War II-era landing craft. And if that wasn't enough, the island has the highest concentration of blue holes in the world. These underwater sinkholes date to previous ice ages, and with over 200 on land and at sea, there are plenty of opportunities to explore them while visiting.
---
What unique dives does Small Hope Bay Lodge offer?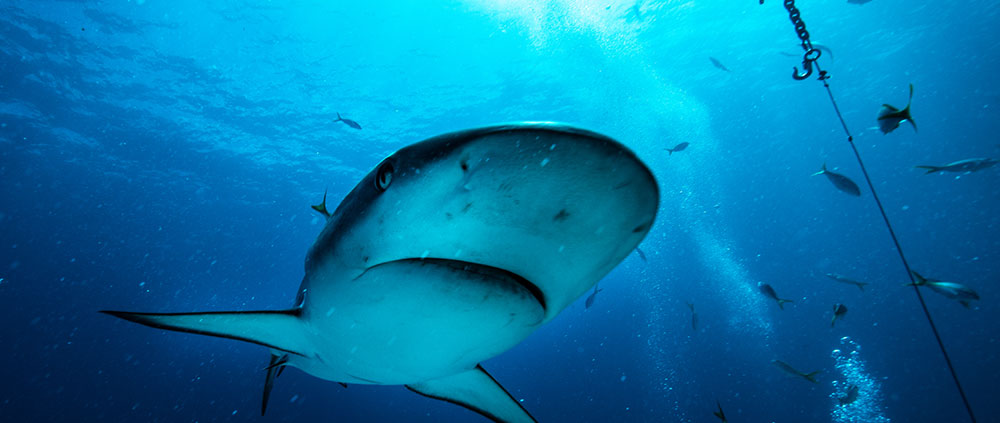 The Shark Emporium
This afternoon expedition takes participants of all experience levels to the heart of a Caribbean reef shark sanctuary. Before hitting the water, divemasters educate guests about safety protocols, the animals, and their importance to reef and ocean health — along with who they can expect to pay a visit. Hookmouth, Chopwing, and Sleepy regularly make appearances, as does Big Mama, a Small Hope Bay favorite since we took our first guests to this site. To start things off, divemasters throw a five-gallon chumball overboard, luring anywhere from seven to 19 sharks to the surface. Snorkelers then enter the water, followed by divers, who swim down to and kneel on the sandy bottom. With everyone in their places and the chumball suspended 20 feet above the ocean floor, the feeding starts. Sharks swoop among and around divers, culminating in "the rodeo," an exciting chase where the animals race behind the lucky shark who scored the last chunk. Before heading back to the boat, participants comb the sands for fallen teeth — a great souvenir from a memorable outing,
Dive Difficulty: Beginner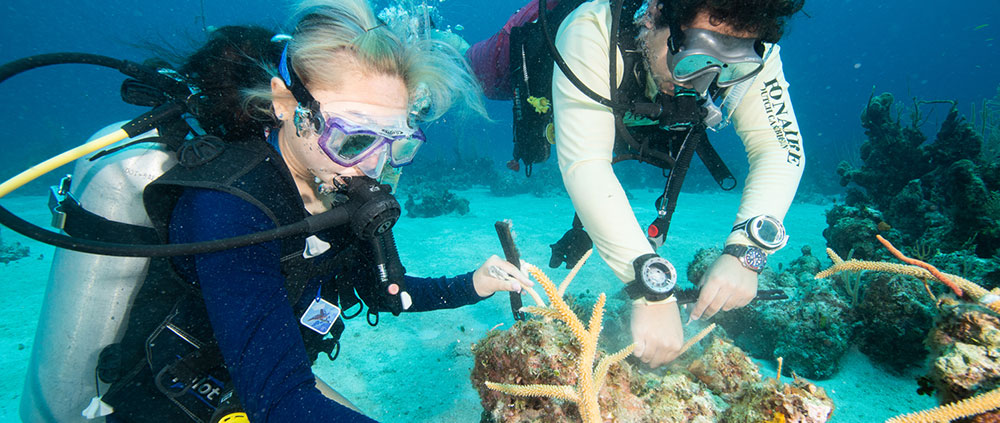 The Coral Garden
Small Hope Bay Lodge tends to a pair of coral nurseries. With 10 trees growing about 1,000 pieces of staghorn coral, they play a key role in our efforts to preserve the Andros Barrier Reef — and guests can help, too. Reef Rescue Network-certified divemasters lay out a dive plan, teaching participants about the type of coral we grow; why we're growing it; proper care techniques; and the difficulties facing reefs around the world. Once class ends, the fun begins. Guests ride out to our underwater nurseries, slip beneath the surface, and begin stocking empty trees and cleaning growing pieces of coral. If they're lucky, they may even assist in outcropping — the transplanting of corals onto the reef itself. (This only happens a few times each year!)
Dive Difficulty: Beginner
The Ocean Blue Hole
At the Ocean Blue Hole, we offer different "follow-the-leader" dives for participants of different skill levels. Our "First Level" takes groups of 4-to-6 Discover Scuba Divers down to a depth of 45 feet — right to its rim. Soft corals and fish abound, and participants get a close-up look at the structure. Divers who register for our "Classic" itinerary descend 105 feet into the blue hole itself. At this depth, sunlight always shines, illuminating midnight parrotfish, horse-eyed jack, sea turtles, and the occasional shark. For an experience unlike any other in the world, opt for "The Back Side of the Blue Hole." Thanks to tidal flows, this geological feature "comes alive" four times per day: Low tide pulls inland freshwater up through an ancient collapsed cave system and out through the Ocean Blue Hole's mouth, resulting in a stark color contrast as it interacts with saltwater. Depending on the time of day, this blue-green layer may completely cover the blue hole's entrance, creating an outer space-like experience as divers descend through the mixing zone. At a maximum depth of 80 feet, participants will see angel hair — wispy strands of sediment and bacteria — clumping onto corals and sponges, and float among fish feeding on whatever the surge of dense water brings.
Dive Difficulty: Beginner-to-intermediate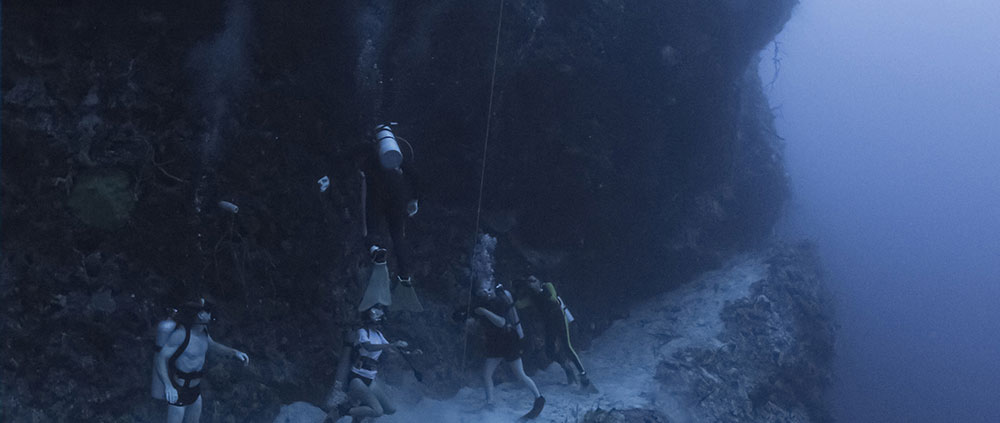 Over The Wall
This Small Hope Bay Lodge signature takes advanced divers out to where the Andros Barrier Reef meets the Tongue Of The Ocean. Participants first descend to a depth of 55 feet, swimming among marine life. Then, The Wall — a 6,000-foot dropoff — begins. Behind the divers lies a coral-covered canyon; in front of them, an endless expanse of ocean. The group is led into the abyss, down The Wall's sheer face, to a sandy beach in 185 feet of water, marked by an iconic rubber chicken. To partake in a longstanding hotel tradition, complete this dive at dawn on January 1 to shock the senses and reset for the year ahead.
Dive Difficulty: Intermediate-to-expert
---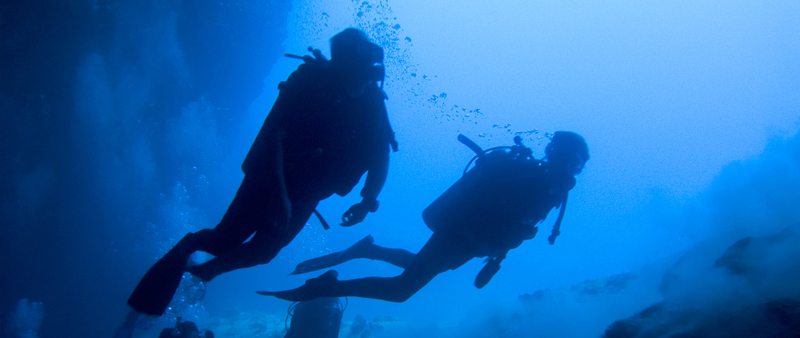 Can my family dive with me?
Children are more than welcome at Small Hope Bay Lodge. We introduce kids as young as six years of age to scuba diving; if they aren't quite ready to go underwater, Andros Island's surrounding shallows offer beginning snorkelers a plethora of sites to explore — 15 in total.
One family favorite is Goat Cay, a secluded island out on the Andros Barrier Reef. While others complete their morning dive, groups can enjoy a relaxing picnic among resident sea turtles.
Additionally, families don't have to worry about getting separated. Our excursions and preferred locations cater to guests of all skill levels: An Open Water Diver, a Discover Scuba Diver, and a snorkeler can all board the same boat and experience the same sites.
We also offer a range of certifications for first-time divers:
SASY: Open to children over the age of six, the Surface Supplied Air System program serves as an introduction to scuba diving. Kids don standard equipment and swim with an instructor, but are not allowed to go underwater.
Bubblemaker: Open to children over the age of eight, this PADI-approved program takes kids to a maximum depth of six feet in a controlled environment. A certified instructor accompanies students at all times.
DSD: Open to children over the age of 10, the Discover Scuba Diving course puts students through the same training as a standard Open Water Diver certification. The only difference is depth: DSD divers are capped at a maximum of 40 feet.
Open Water Diver: Open to children over the age of 16, PADI's standard certification prepares students for the open ocean.
---
Are there any COVID regulations and safeguards?
As of April 2021, all travelers over the age of 10 must obtain a negative RT-PCR test, taken no more than five days prior to setting foot in The Bahamas. Travelers must also apply for and receive a Bahamas Travel Health Visa before arriving: All applications require proof of a negative RT-PCR test, and processing may take up to 48 hours to complete.
Nationally, all visiting The Bahamas are required to wear face masks, maintain social distancing, and adhere to any island-specific regulations. Additionally, anybody planning on staying longer than four nights must take a rapid antigen test.
Small Hope Bay Lodge has also implemented a number of enhanced precautions. Rental equipment is thoroughly cleaned on a regular basis, and all guests receive new mouthpieces prior to diving, as well as a dedicated cubby to safely store their equipment when it's not in use.
Furthermore, we consistently spray our dock, boat, and gear down with sanitizer, and have hand gel available before and during each dive. All staff members wear facemasks and enforce restricted passenger capacities on dive boats in order to maintain social distancing.